Installation Of Soft Fire-resistant Tanks For A Solar Panel Manufacturer
Views: 0 Author: Site Editor Publish Time: 2019-04-20 Origin: Site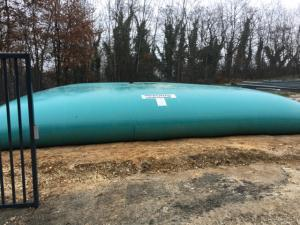 Rainbow has delivered 5 flexible fire tanks for this partner, designer of solar panels, to provide a water point on these sites and fight against the risk of fire. And the flexible water tanks has successfully installed.
As part of the DECI , our French partner creator of photovoltaic systems, needed water points to fight against the risk of fire on its 5 sites. After the validation of the various SDIS (Departmental Service of Fire and Rescue), it was agreed to install 120m3 of fire water on each of its sites. Our flexible products have been selected to meet its needs by their price quality and speed of implementation faced rigid solutions.
The complete solution fire-resistant flexible tank
Rainbow has provided 5 complete solutions including:
· 120m3 fire tanks meeting AFNOR NF S62-250 and NF S65-240 standards,
· P.A type H fire protection posts from Bayard
· And PVC pressure connection kits for connecting the tank to the pole.
This complete solution brings a significant time saving to our partner since there is only one supplier for different components.
Quick and easy installation
Here, there is little civil engineering other than the frost protection of the pipes and the creation of the platform to accommodate the flexible fire tank. Our fire reserve is fast and easy to install.
"The tarpaulin is a fast and reliable economical way to stay in compliance with fire standards demanded by the SDIS." The flexible fire tanks are of superior quality and have the advantage of adapting to all types of configuration. installation, fast delivery, efficient after-sales service we highly recommend Maijieke.
Welcome to contact us by : admin@softliquidtank.com